Magical Moonshine Theatre Press-Help Kit
The following is a typical interview with Michael Nelson, co-founder and director of the Magical Moonshine Theatre. It includes questions often asked and may be quoted directly. However Michael is more than happy to be interviewed over the phone or in person when possible.
How did you get started in puppets?
M: I used to own a small cabinet shop in Oakville, CA, and at one point an injury kept me from working for several months. I decided to put on a puppet show for the preschool where my wife worked. We built a huge marionette stage and thirteen marionettes for the show. It was supposed to be a one-time event, but it was a big hit and we got a number of requests for more shows. That was in 1979. About four years later I gave up the cabinet business to pursue puppetry full-time with Valerie (my wife).
You have worked with the late Jim Henson, creator of the Muppets. What was that like?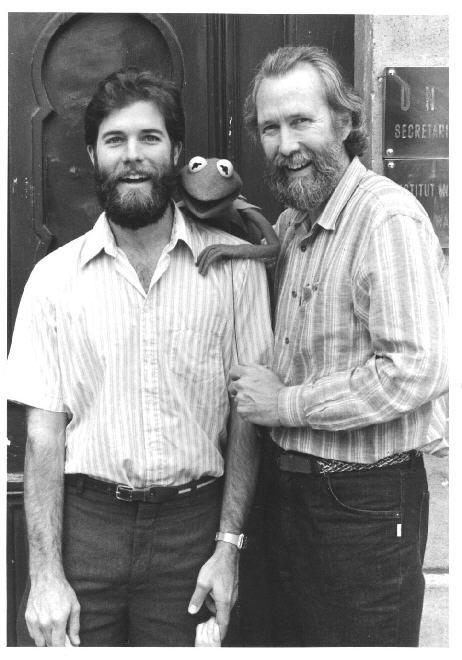 Michael, Kermit and Jim
In 1987 I was very lucky to have been chosen to represent the United States at a special international symposium with Henson at the International Puppetry Institute in France. I attended with twenty other puppeteers from all over the world and we worked with Henson for almost a month on puppetry in film and video. It was a most inspiring experience for me, not only to be working with Henson, who was at that time undoubtedly the world's biggest name in puppetry, but also to be working with my fellow professional puppeteers from so many different countries and cultures.
What drew you to puppetry in the first place?
M: I am not really sure, but there is one unusual incident that might have had an effect. All of my youth I was slightly nearsighted but never really needed glasses. In college my eyesight worsened, and I had to get glasses. I happened to pick up my new glasses right before I was to go to a marionette show at the local high school. Why I decided to go to a puppet show I can not remember, but I distinctly remember sitting in back of the auditorium and marveling at how clearly I could see everything. Perhaps this experience made some psychological impression on me and changed my life. Who knows?
What is it about puppetry that appeals to you?
M: Puppetry includes so many artistic disciplines: the puppeteer writes the scripts, designs and crafts the puppets, designs and tailors the costumes, paints the puppets and backdrops, writes and plays the music, produces and directs the show and acts out all of the roles. The puppet artist has complete control over the work including set design, lighting and sound for the show, advertising, bookings--all the business part of running a theater. Puppetry poses a never ending series of artistic challenges. I like that.
You call your theater a touring theater. What does that mean?
M: We take our show to different theaters in different cities, rather than working out of one particular theatre. We've toured coast to coast in the U.S; in Canada; in Europe and Asia. We enjoy touring. We meet lots of nice people, and we get to visit many places, not as tourists, but as visitors who are there to participate in the community. Often we are invited to stay in people's homes when we are traveling.
Where should an aspiring puppeteer go to learn the art form?
M: I suggest that the first place for the beginning puppeteer to try is the local library. There are also local and national organizations of puppetry that could help. I have been active in UNIMA, the U.S. center of the international organization of puppetry, including serving as president of the organization. Puppeteers of America is the national organization of puppetry. They put on puppetry festivals in the U.S. There are also puppetry divisions in the theater departments of several major universities, most notably the University of Connecticut.
How do you make your puppets?
M: We make all of our puppets at our studio in Napa Valley, CA. We use a number of different techniques of design and construction. I often use materials such as thermo-plastics and putties to make the heads. We work a lot with fabrics and foams because they are so much more flexible and can give a wide range of expression. We also make large masks and headdresses for our productions, using similar methods to those we use in puppet making.
Do you enjoy making the puppets or performing more?
M: I enjoy both. Building a show is more difficult. In making the show, there are the challenges of design and construction. It might take a lot of adjustment to get a puppet to do what you want it to. Then there is the excitement of watching the whole show grow before yours eyes. The puppets become real characters and you get to know them, developing movement, voices and mannerisms. It is a wonderful process. Performing on the other hand is a mixture of work and play. It's the fun
What about the music in your shows?
M: I've always enjoyed playing music, and Valerie is very musically talented. In recent years our use of music in the shows has increased. There is almost always live music and singing written into our shows now. Valerie plays keyboard, and I play various instruments depending upon the culture of the show we are doing.
Where do you see your work going in the future?
M: That's an interesting question. We have thought at times about a resident theater for when we might tire of touring. We have been working with traditional folktales for many years now, and developing what might be called an American folk-style of puppet theatre. This is something we enjoy and will continue. Living in California we have found that multiculturalism is important to our work and to our audiences, and we will continue to work in these areas. I think that we might begin to explore other areas as well, though. We might try working a bit more with history and mythology. Also, storytelling. We have always been storytellers, but may focus on that aspect of our work a bit more in the future. We are always years behind on our projects. I can't keep up with all of my ideas; they get backlogged. And we have new ideas all the time. I would love to be able to work with a larger troupe, with more performers and musicians, but that may have to wait on the economy.