Cirque du Cafe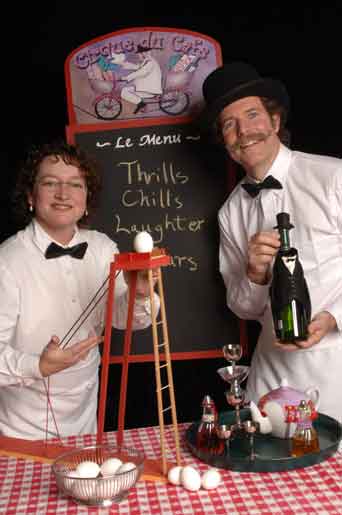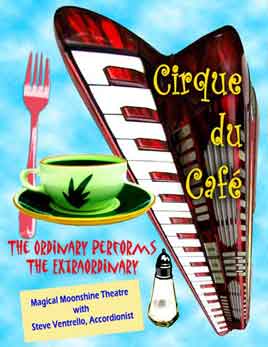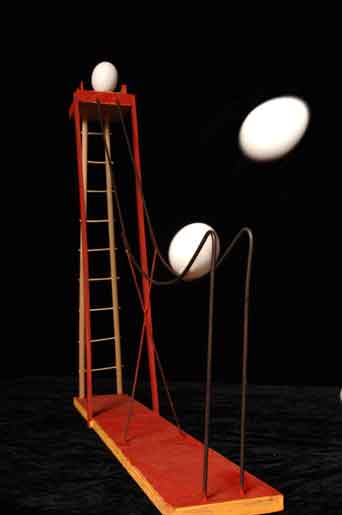 This show was originally designed for adult audiences in the cafe setting, but since it opened in Spring of 2005 it has played very well in various forms for family as well as adult audiences, in a variety of settings, both restaurant as well as theater. With many acts, the length and age appropriateness can be adjusted.
"Best THEATRE I have seen in years!" - Industrial Light and Magic FX Engineer
Read the reviews, below:
Napa Valley Register Review: Wine country puppeteers back at home with amusing, clever tabletop circus tribute
By L. PIERCE CARSON, Register Staff Writer
Wednesday, December 7, 2005 1:06 AM PST

Respected American puppeteers Michael and Valerie Nelson have been entertaining and educating kids of all ages around the globe for well over two decades. Their Napa Valley based Magical Moonshine Theater has played to puppet festival audiences from Tokyo to New Orleans and the founders' creativity singled out for award after award after award from the renowned industry organization, Unione Internacionale de la Marionette. Although Magical Moonshine Theater has staged in excess of 4,000 performances at home and abroad in the past 25 years, local residents haven't seen the company's inspired performances in quite some time. So when the Nelsons hang out the Magical Moonshine shingle along Highway 29, it's time for rejoicing.

And so it was this past Sunday when Magical Moonshine Theater turned the spotlight (more like a flashlight) on its latest production, "Cirque du Cafe." Played out on a miniature performance space tucked into the corner of Yountville's Wine Garden Restaurant as a prelude to Sunday supper, "Cirque du Cafe" celebrates European circus, tabletop style. Starring both implements and ingredients normally associated with the kitchen, the hour-long show kicks off with competitive napkin folding and a parade of festively decorated teapots, substituting for the traditional circus elephants, and here called a "ragout of elepots." Sugar dispensers assume the mantle of circus strong men and ceramic coffee cups are dolled up as clowns. An eggbeater takes on the role of ringmaster, putting "les oeufs" through their high wire paces. Cordials of varying sizes aspire to a daring balancing act, while acrobatic olives dive into a well-oiled martini glass. Monsieur Bordeaux -- a wine bottle in black tie and top hat -- serves as illusionist in an attempt to dazzle the audience with fancy knifework involving a seductive Mme. Baguette. This is a delightful segment, performed to one of the marvelous songs from Cirque du Soleil's "Alegria."

Speaking of music, the score for "Cirque du Cafe" comes from nimble-fingered accordionist Steve Ventrello, a local vintner with a huge talent for songs that sound absolutely wonderful on the squeezebox. Everyone gets into this act, from crumb scraper to pizza slicer, salt-and-pepper shakers as trapeze artists, Champagne bottle as circus cannon, and a banana as ultimate sword swallower.
Whimsical, entertaining fare for all ages, "Cirque du Cafe" presents the Nelsons at their creative, tongue-in-cheek best. This is a show designed as much for tots as for those of us who refuse to grow up. Don't miss this rare opportunity to see Magical Moonshine Theater perform in its own backyard.

"Cirque du Cafe" will be repeated at 5 p.m. Sunday at the Wine Garden, 6476 Washington St., Yountville. Tickets are $20 for the show. Beverages can be purchased during the show and dinner reservations accepted for a Sunday night family affair. For reservations for both show and meal, call 945-1002, ext. 1.

San Francisco Bay Area Puppeteers Guild Review: "Cirque du Café" by Elisheva Hart

The Magical Moonshine Theatre has a new show. Tired of building large shows, which are getting hard to sell, they've spawned a European style circus! But one small enough to be called "table top"-although it is performed in a stage which resembles a tall, canopied espresso cart-with an incredibly unique cast of puppets performing totally familiar acts (which is how they get away with it…audience recognition that is!)

Our special Puppetry-Guild-gets-a-discount day was their fourth performance. It will gain polish with repetition before audiences, but can never be shrink wrapped like ordinary veggies can be. The format is ripe for constant tinkering with-adding, reworking, deleting acts-and utilizing the surprising imaginations of Michael and Valerie Nelson. "Cirque du Café" is all about foodstuff (a banana sword swallower, high diving olives, and at-risk eggs) and kitchen implements (an egg beater ring master, loincloth-clad sugar dispenser strong men, and a tea ball high wire act). "Tacobell's Cannon" is a clown act featuring a champagne bottle which literally shoots its cork, whereby the puppeteers, their accordionist, and by happenstance, an eager audience member with empty cup, all took a "bubbly break."

The "Cirque" appeared in the "Wine Garden" restaurant (great food) in Yountville on December 4, 2005, with an equally full and enthusiastic house on the 11th. A whole shopping cartful of venues awaits this small show; cafes and restaurants, food fairs, culinary schools, tasting rooms, and honorary dinners, but probably not BBQs-which are usually held out of doors-unless they can set up in the pool house. Of course each performance space offers its challenges as we in the biz know only all too well. Here they were wedged into a corner by a chandelier which threatened their canopy. This gave the puppeteers such minimal space behind the stage that they needed skyhooks to keep their balance while passing each other. To accommodate their full house, the rows of chairs had to be at right angles to each other, with the stage catywampus across the area where the two sections of seating intersected. An intruding corner of the wet bar dictated this arrangement.

Previously unknown talents of Valerie surfaced with her sultry singing and her luscious body language while manipulating "Mme. Baguette", a seductive loaf of French bread. Steve Ventrello, local vintner, accompanied all the acts with a lively and well played accordion. By performing live he could watch the action and pace the music to the moment. Bravo!

The audience was mostly fun loving adults with a few families. The youngest member was an under two years toddler who amazingly was mesmerized by the show, and quiet, for fifty minutes of the hour. Wise parent departed with her at that point. During the act, "L'Amour Tragique", a red nosed clown constructed from a paper cup is hopelessly in love with a china cup. Spurned, he then jumps off the high dive onto a sharp menu spindle below. As his head is pierced clear through in two places, one woman gasped, clearly shocked, "Oh My God! That's HORRIBLE!" then tittered as she realized it was only a disposable cup indeed.
Sitting next to me was a man also taking notes on the puppet show. I was informed later that he, L. Pierce Carson, is theatre reviewer for the local "Register" newspaper and first reviewed Valerie when she was in her high school's musicals. He did review Magical Moonshine Theatre's production of "Orpheus Descending" a few decades ago, but never since. He wrote a delightful review this time which conveyed the whimsy and fun of their new show, entitled, "Wine country puppeteers back at home with amusing, clever tabletop circus tribute."