Fresh from the Altered Barbie Festival in San Francisco,
Little Blue Moon Theatre Presents
ADDITIONAL COMMAND PERFORMANCE:
Saturday, February 6, 2009 - 7:30pm, Tickets: $20.00 at door, $15.00 in advance
at: Sala Salon, 1315 First St., Napa, CA 94559
RESERVE YOUR TICKETS BY CALLING: 707-252-0202
Purchase tickets online with credit card at Brown Paper Tickets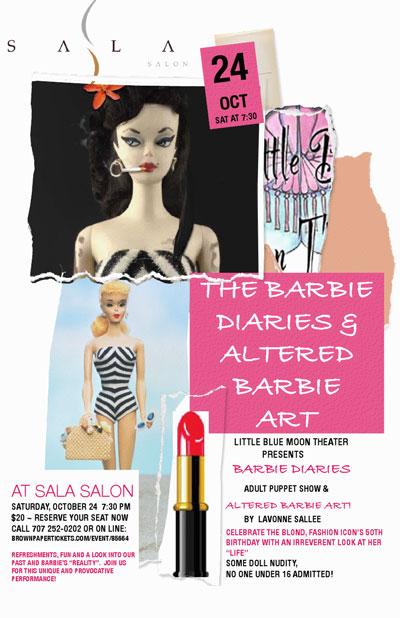 Above, video shows results of conversion from doll to puppet.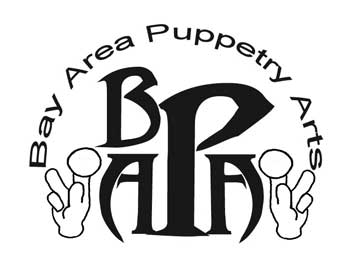 The event is a fund raiser for puppetry arts in the schools, sponsored by Bay Area Puppetry Arts (BABA)
scroll down for more info
Altered Barbie Puppeteer's Worktable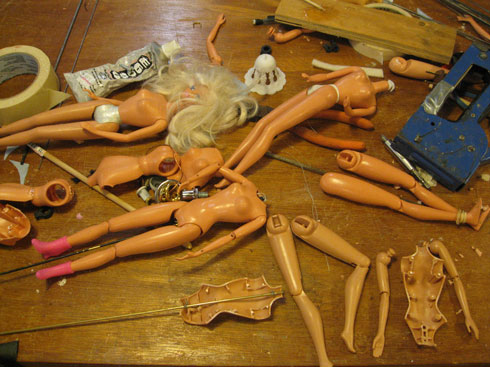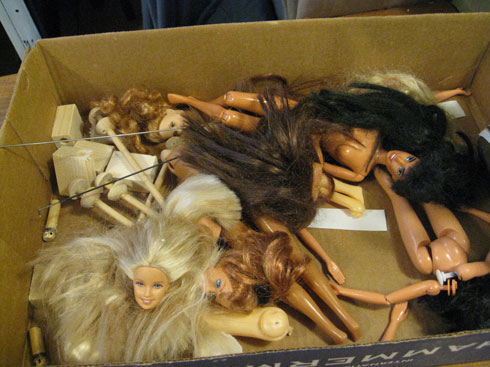 Above: dolls are carefully deconstructed and then reassembled with puppet mechanisms to bring them to life on the stage. Welcome to my world!
THE SHOW, STARING BARBIE AND FRIENDS
The Barbie Diaries 2004- The lives of dolls take on new meaning as we delve into Barbie's recent life through her own writings. The diary excerpts selected focus on the period after her now famous split with Ken, and include her marginally triumphant emergence from a mindless stint at a Salvation Army shelter, to her attempts to rebuild her life and even reenter the dating scene after a relationship that inexplicably failed after 43 years. Ultimately Barbie realizes her deep need to be completely controlled, and how it has shaped her life. Giving Bridget Jones a run for her money, Barbies diaries offer an intimate view from a dolls perspective, humorous, yet with more depth than you might expect from a blond, plastic, fashion icon. Contains some doll nudity, a little consensual S&M play, and some curious observations about grown men who play with dollies.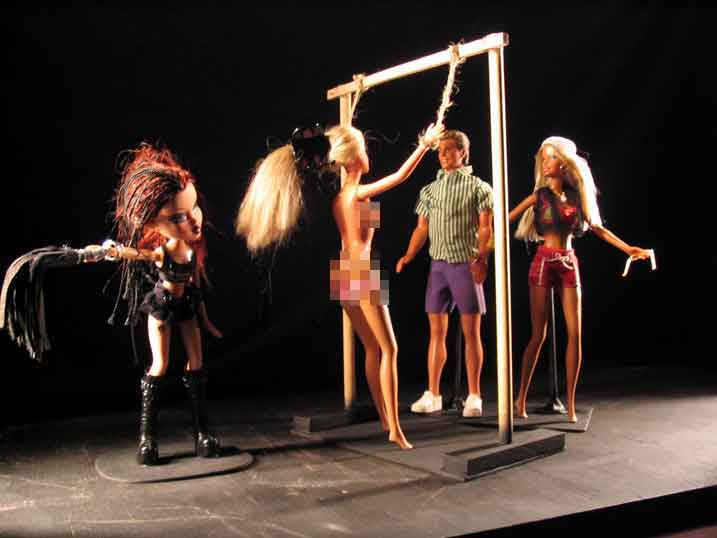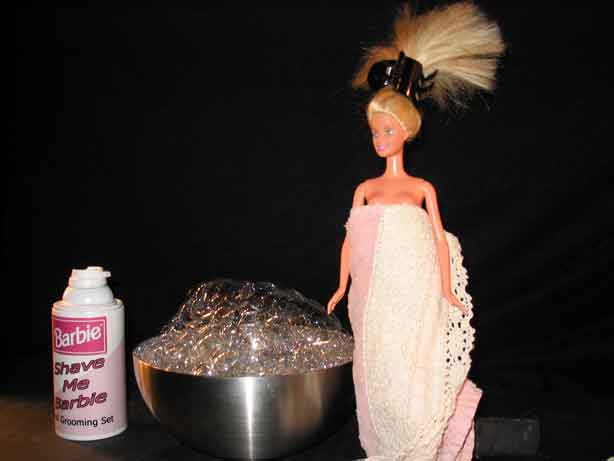 Photo L: A very awkward moment: In an attempt to attract the amorous attentions of her next door neighbor, Barbie has scheduled a session with Mistress Bratz when her ex, Ken, and his new girlfriend (Caligirl) happen by. By the way, the Bratz doll is wearing the same skanky clothes she is sold with. Photo, R: On the road to recovery: Barbie's first bath in over a year (since the split.)
And the World Premier of Barbie Diaries 2009 - Barbies quest for the naked truth continues and gets much more complicated as she buys her dream home at the peak of the real estate market, then can't find work in spite of a very hefty resume, makes the mistake of starting to "think" and begins to stumble upon the memories and experiences of other Barbies which makes her life more complicated than she ever wanted.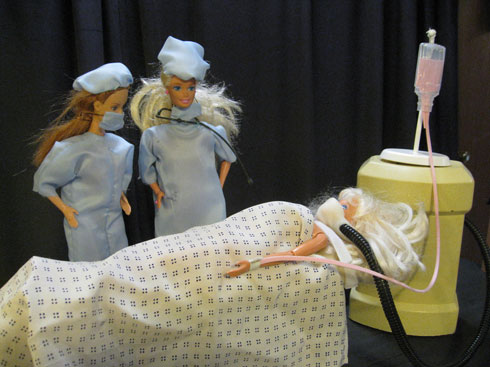 In Barbie Diaries 2009, Barbie needs all the help she can get as she turns 50 in a world where youth and beauty rule.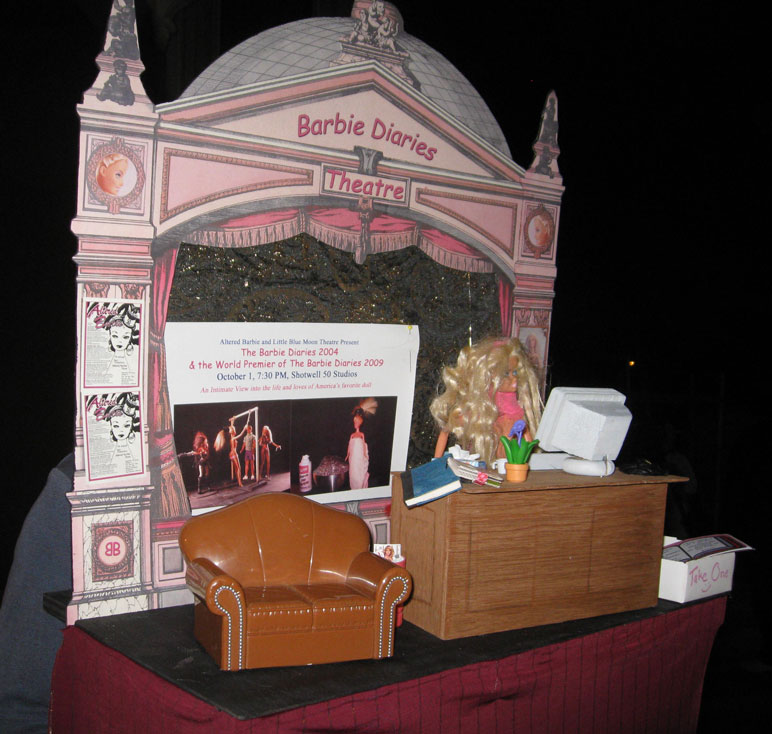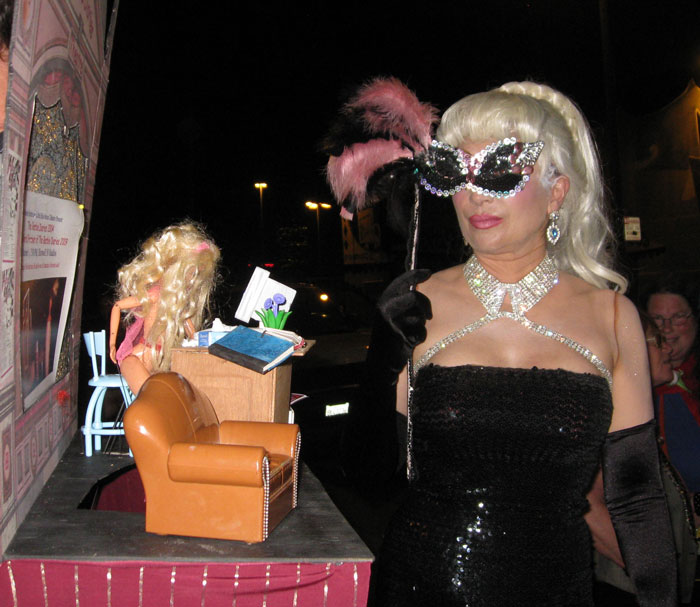 LEFT: Even at the Altered Barbie Festival opening reception, Barbie is working hard on her Diary, which is going to be made into a major theatrical production. She is very excited. RIGHT: Introspection: Barbie watches as Barbie types stuff about Barbie.
LEARN MORE ABOUT THE INTERNATIONALLY ACCLAIMED, AWARD WINNING LITTLE BLUE MOON THEATRE
Past Barbie Productions of Little Blue Moon Theatre
(sorry, you missed it)
The Lady Or The Tiger - An ancient king has an unusual system of justice. Open one door in the arena and there is a lady. Open the other and there is a ravenous tiger. Which will it be? The lady or the tiger? (Similar to but not exactly the version you read in high school English class! Contains adult humor, some very scanty outfits and a somewhat dangerous tiger.) This sexy, political satire is done with Barbie playing the Barbarian Princess, Midge, her sister, the King is played by GI Joe, and the Prince by Ken (with the tiger playing himself). So, not exactly toy theatre, but theatre with toys...Runs about 20 minutes. Photos to come.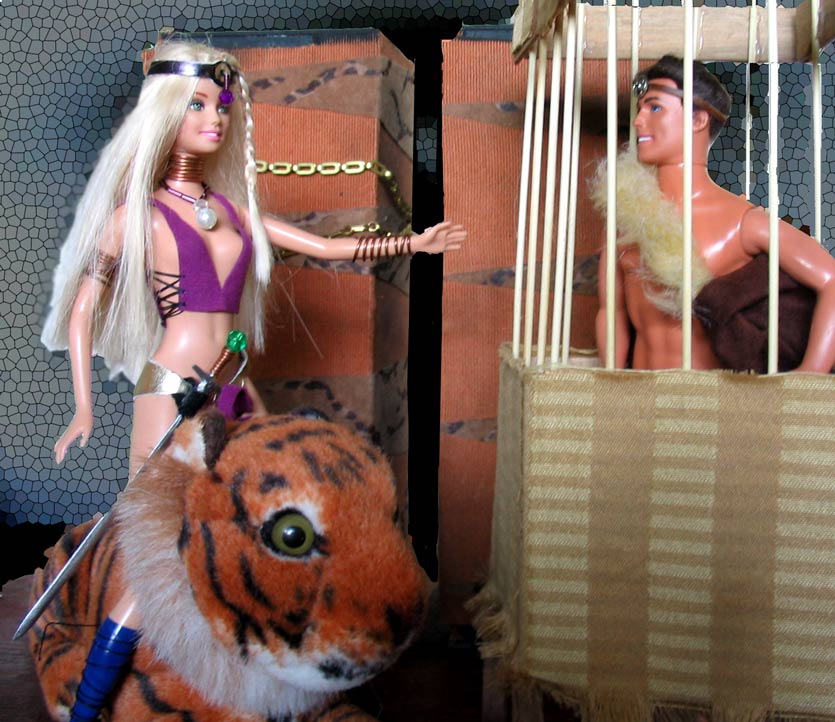 ...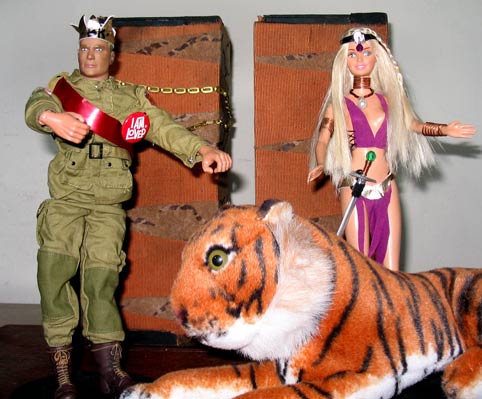 Dido and Aeneas, the Parody - This was a one time "roast" for the cast of the Opera of Dido and Aeneas, making fun of the singers, the director, the costumes, the setting, the story, and just about anything else we could think of. Cast photo below.