Little Blue Moon Theatre is a touring theater company that performs for adult audiences coast to coast in the U.S. as well as in other countries. The company specializes in intimate "miniature" forms of theatre such as Victorian toy or paper theater, shadow puppetry, object theatre and traditional puppet theatre. Little Blue Moon Theatre's themes often include love, romance, sex, and adventure and are meant for mature audiences. Shows can be humorous or achingly moving (and sometimes both at once.)
The company is located in the San Francisco Bay area, and got its beginning as the house puppet troupe for Wild Swan Aphrodisiac Factory in Napa, California. Since its formation, the company has performed coast to coast in the U.S. and numerous times in Europe, as well as winning the top national award for excellence in puppet theatre, founded by Muppet creator Jim Henson.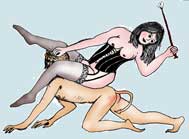 In the musical production, "The Widow," a lonely innkeeper is challenged by the devil...if he can last until she is satisfied, he wins her soul. Turns out the task is harder than he imagined.