Little Blue Moon Theatre Shows
Roman Reverie - In this original toy or paper theatre production, Harold and Eve go to Italy for a vacation, but after having a big fight in a restaurant on their first night, they split up and each go on their own involuntary quest through the Roman pantheon, until finally they are reunited again.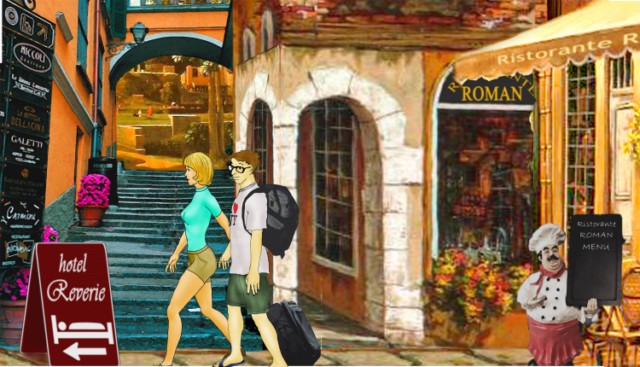 Harold and Eve arrive in Italy, only to have a big blow-out in the restaurant.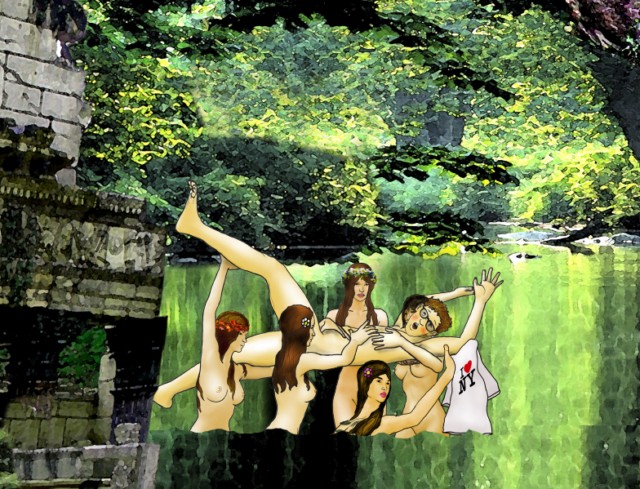 .
Harold finds himself seduced by river nymphs and Eve, in a role reversal, finds herself the "pet" of a young centaur girl.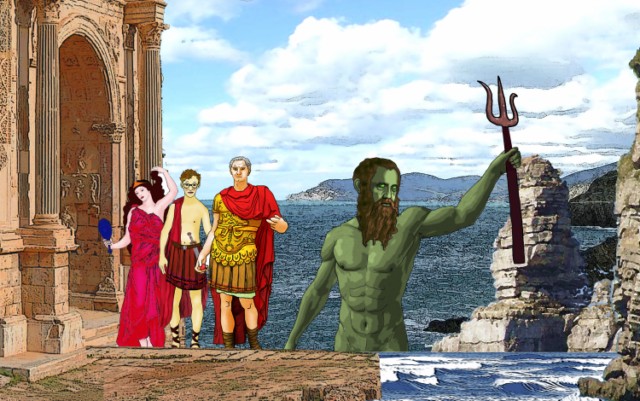 Harold is conscripted as a gladiator, and, unexpectedly wins, getting to meet the Emperor!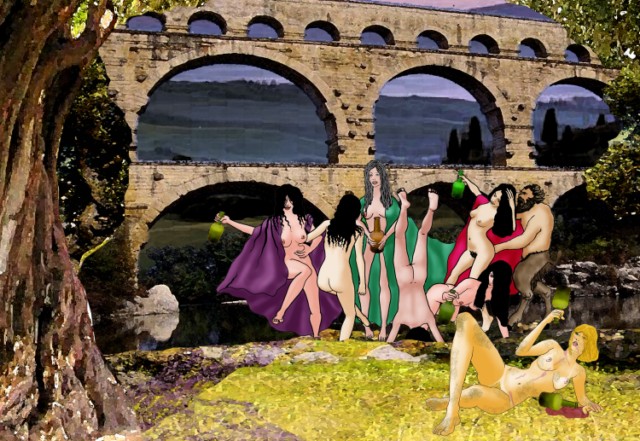 Eve finds the Bacchus revelers can drink her under the table.
Dracula del Lobo - Little Blue Moon's take on the popular vampire story...Set in Argentina in the mid 1920's we find two young women sent to spend the summer on an isolated plantation (where one of the women's uncle grows coca for an American soft drink company). The goal is to protect the youth from the dangers of their own sexual awakening, but it turns out an even greater danger lurks next door to the plantation, Francisco Pizzaro's "Mano de Sangre," Count Dracula del Lobo who was one of the original conquistadores made immortal by an Incan blood curse. Creepy, beautiful, erotic and dramatically tense, this new work for paper theatre is a 'don't miss." Contains nudity, some serious sexual situations, stake driving and beheading, blood, and a simmering lustful admosphere...just what you would expect from the world's favorite monster.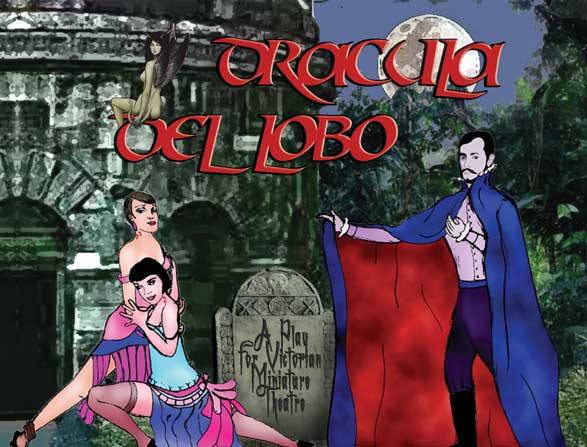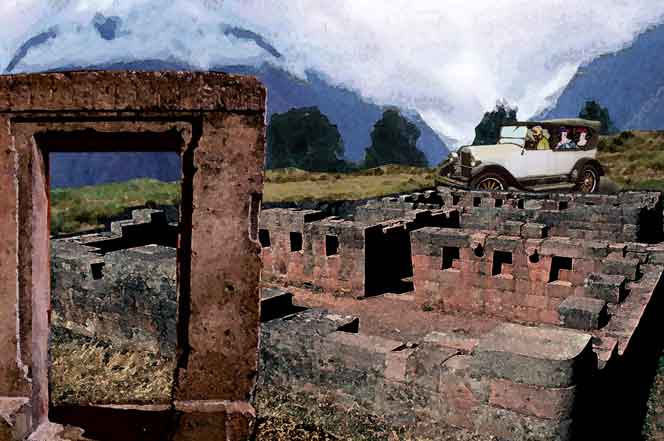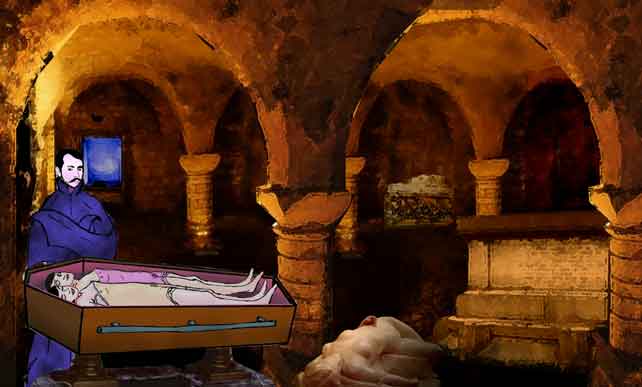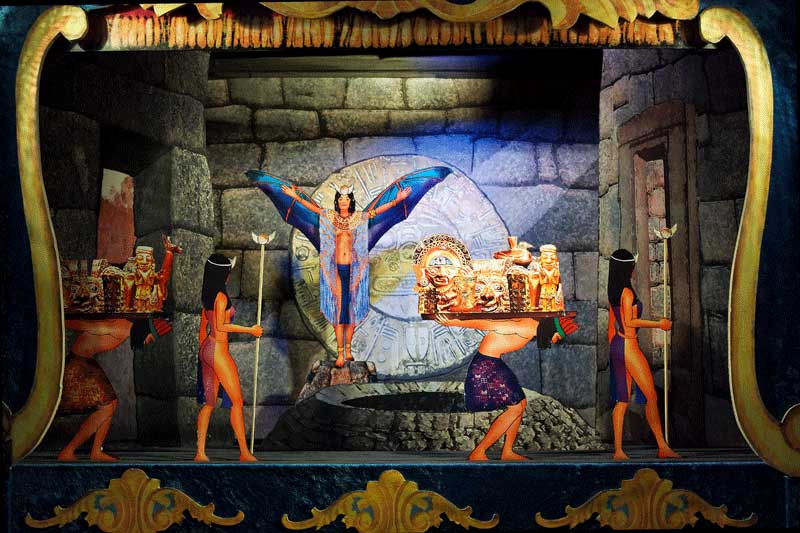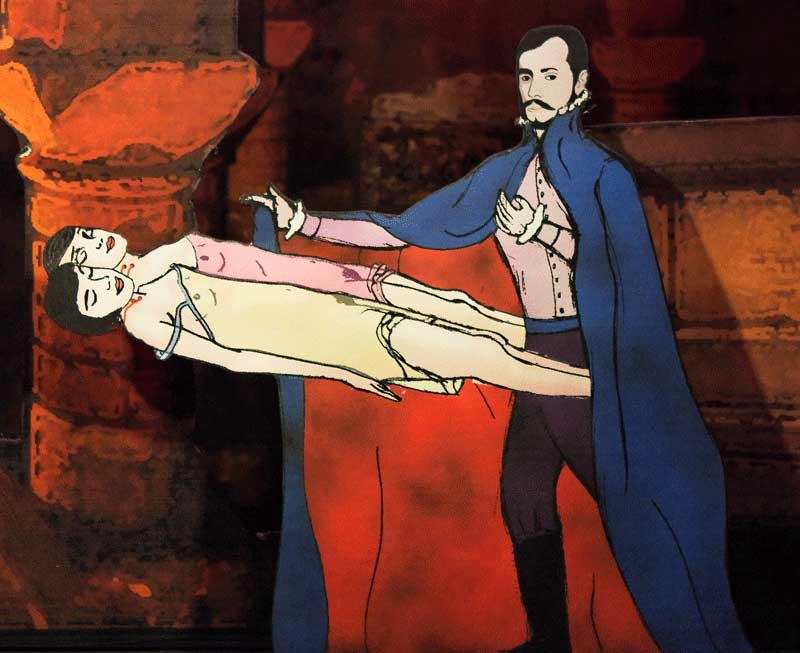 Scenes from Dracula del Lobo (photos by Rainer Sennewald and Michael Nelson)
The Barbie Diaries 2004 (AND NEW: BARBIE DIARIES 2009 which premiered at the Altered Barbie Festival In San Francisco, 2009)- 2004- The lives of dolls take on new meaning as we delve into Barbie's recent life through her own writings. The diary excerpts selected focus on the period after her now famous split with Ken, and include her marginally triumphant emergence from a mindless stint at a Salvation Army shelter, to her attempts to rebuild her life and even reenter the dating scene after a relationship that inexplicably failed after 43 years. Ultimately Barbie realizes her deep need to be completely controlled, and how it has shaped her life. Giving Bridget Jones a run for her money, Barbies diaries offer an intimate view from a dolls perspective, humorous, yet with more depth than you might expect from a blond, plastic, fashion icon. Contains some doll nudity, a little consensual S&M play, and some curious observations about grown men who play with dollies. Runs about 25 minutes.
2009 Barbie continues to delve into the meaning of life, buys her dream house with a subprime mortgage, looks for a job, goes to therapy, and begins to wonder if Barbies don't share a group mind. Runs about 40 minutes.
Quotes about the Barbie Diaries 2004 & 2009 (presented together):
This evening was amazing, we attended a production by the Little Blue Moon Theatre, featuring, "Barbie Diaries". It is hysterically in depth and captivating in every way. I will be attending your next performance! Everyone they are a must-see. The duo, husband and wife, are master puppeteers who have entertained our son many times with their children's theatre. This was a great opportunity to blend the child within while catering to a more sexy adult humor. Thank you Valerie and Michael, Bravo...J.D.
I really think your Barbie show should be more widely seen. You've really captured the feeling of so many of us.
I loved the encouraging song at the end. Just what I needed. L.J.
What a wonderful theatrical experience on Sat nite. My husband and I loved the show and I really liked the progression from the one show to the second. They enhanced each other. Thanks for a great evening. L.A.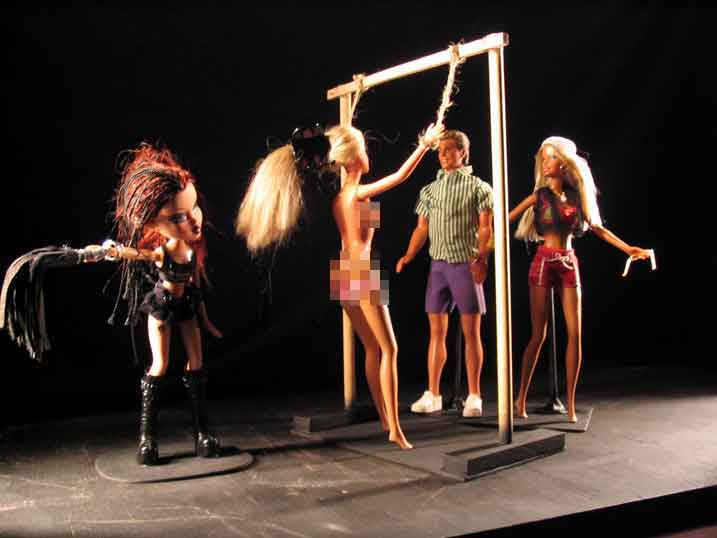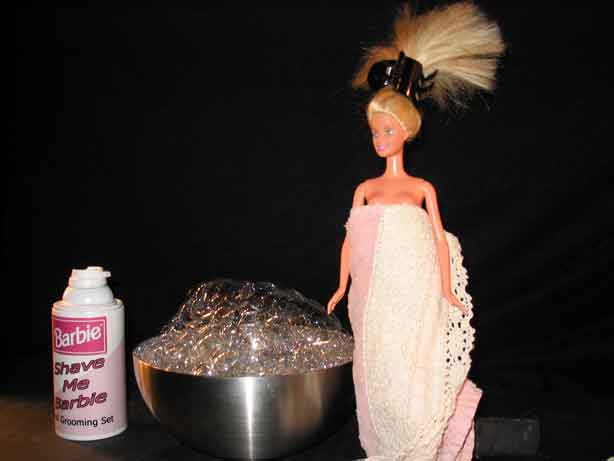 Photo L: A very awkward moment: In an attempt to attract the amorous attentions of her next door neighbor, Barbie has scheduled a session with Mistress Bratz when her ex, Ken, and his new girlfriend (Caligirl) happen by. By the way, the Bratz doll is wearing the same skanky clothes she is sold with. Photo, R: On the road to recovery: Barbie's first bath in over a year (since the split.)
Japanese Ghost Story -Yamome married late in life, only to find his young wife prematurely carried away by death. But after her death, she continues to visit his bed nightly. How will Yamome deal with these spiritly, conjugal visits? Find out in his beautiful and atmospheric tale of love after death. Contains nudity, sex with a ghost, Japanese bondage and lots of beautiful artwork inspired by and 'sampled' from, Japanese prints. Runs about 25 minutes.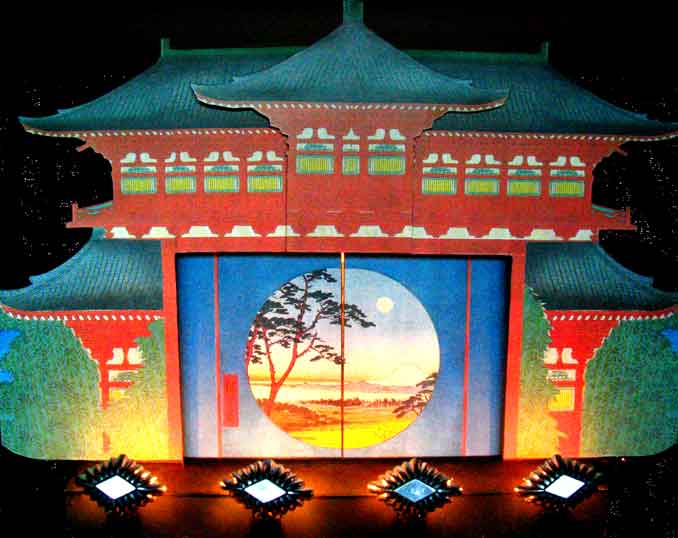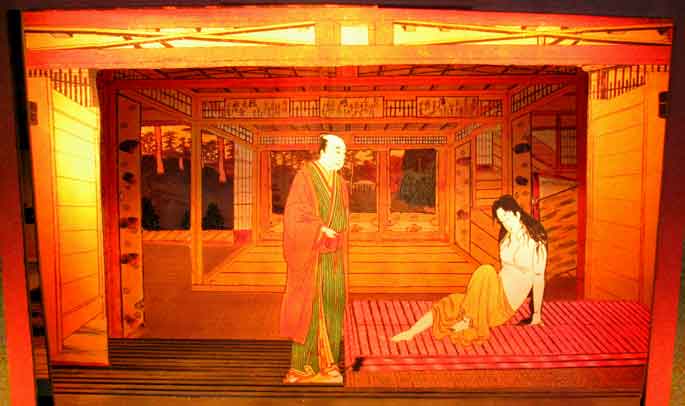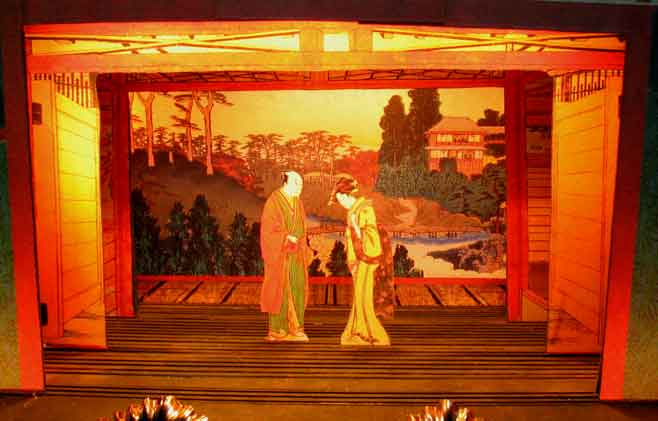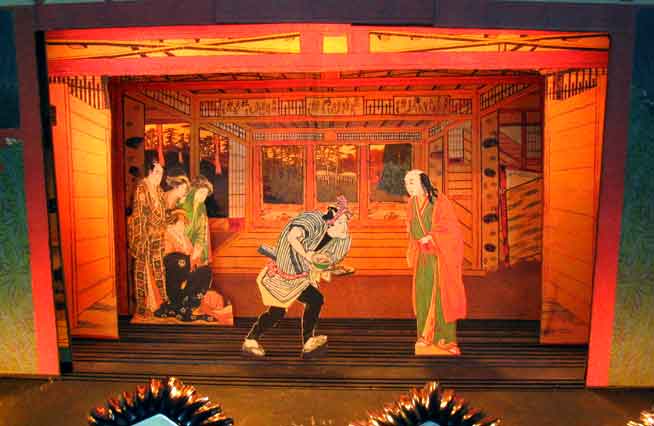 Photos: Upper left, Japanese Ghost Story stage. Clockwise: Yamome and Ayume enjoy a quiet moment, Yamome's friends try to console him, Yamome and Oyume meet outside.
The Shaft of the Mummy - Long ago the Egyptian god Osiris was cut into pieces and scattered by his brother Set. Osiris's wife, Isis, gathered all the pieces but one (the private member of the god) which remained lost until it turned up in the hands of the young archeological assistant, Chastity Innocenti. All seems well, but the priestesses of Isis have vowed to search for the missing phallus even after death. In this campy play, inspired by radio dramas of old, once again we learn that it is dangerous to mess with 'mummy dearest.' Contains nudity, mummies with their wrappings coming off, use of an ancient mummy phallus, and mummy sex (in the wings). Not to be missed! Runs about 30 minutes.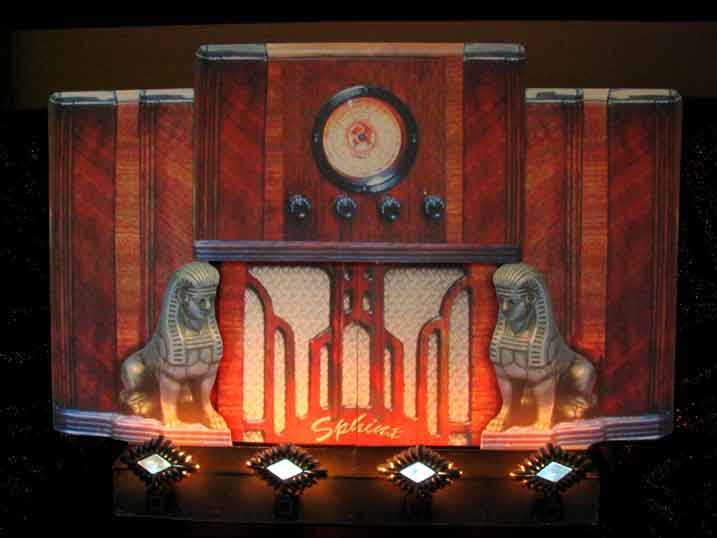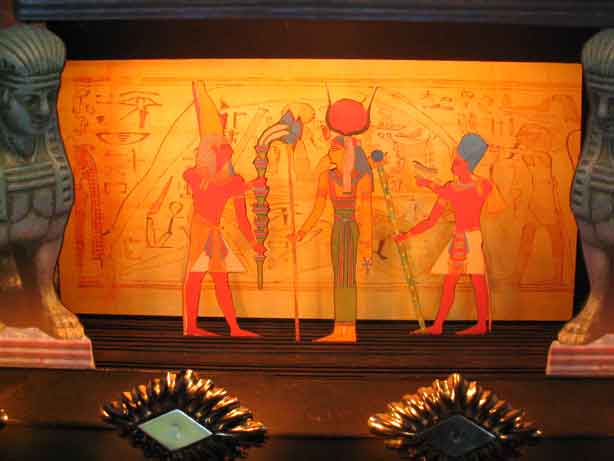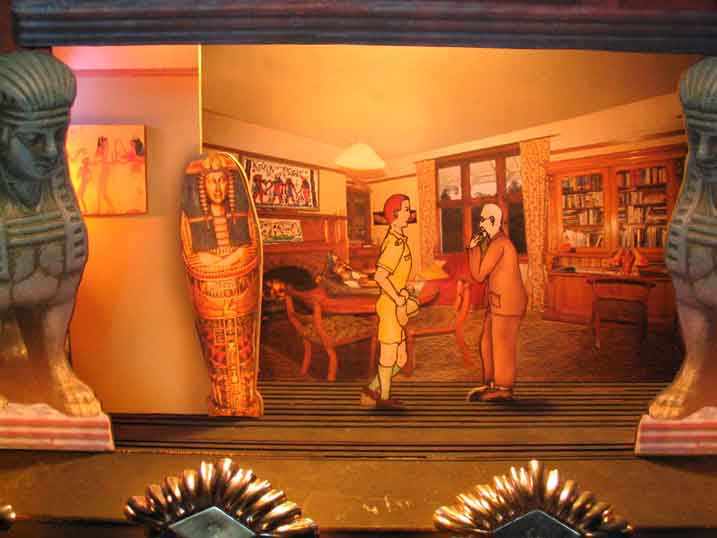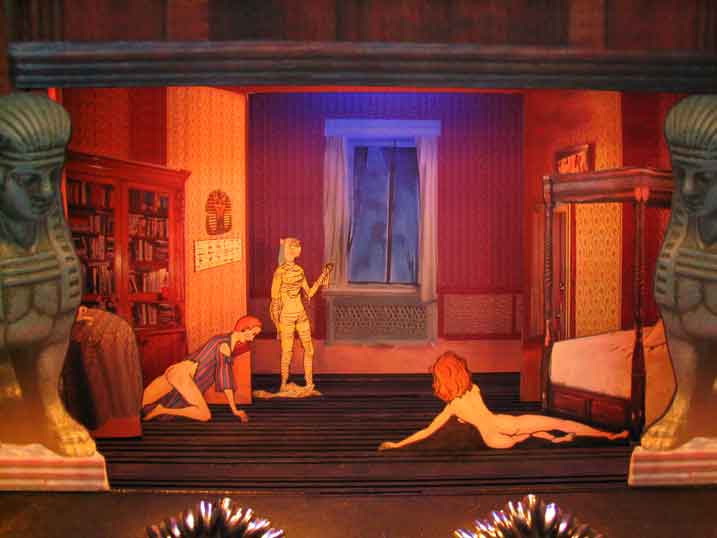 Photos: Upper left "Shaft of the Mummy" stage. Clockwise, gods of Egypt, the mummy wreaks havoc in the lives of the innocent, and archeologist Richard Standing confers with Professor Fatherly in his living room.
Mutiny on the Bounty - A new toy theatre work with lots of animation! Think blue-green oceans, mermaids, fragrant breezes, native women, warm waterfalls, flowers everywhere and weather where clothing is only for decoration, and you are on your way to this lush, tropical treatment of the famous mutiny; a treatment that ignores all of the mutinous controversy in favor of the archetypical island fantasy. Contains no sex, but lots of dancing, ukeleles, surfing, bathing, and a few tropical drinks in the hammock. Oh. And some long rowing for Captain Bligh. And some tattoos. Runs about 25 minutes.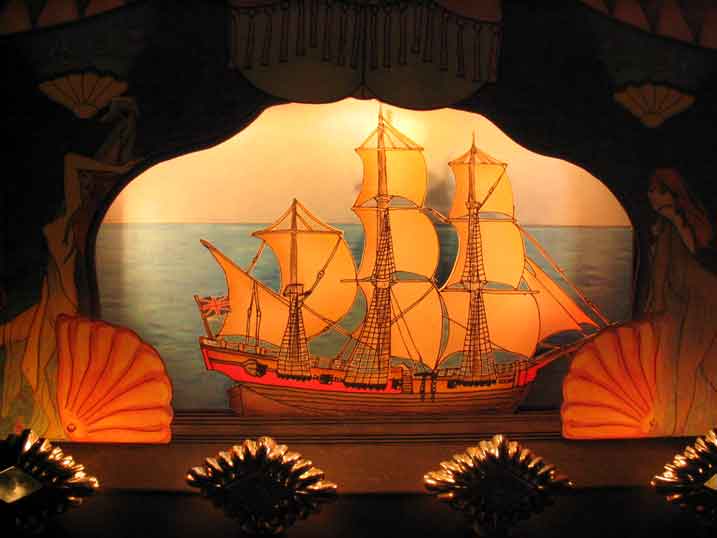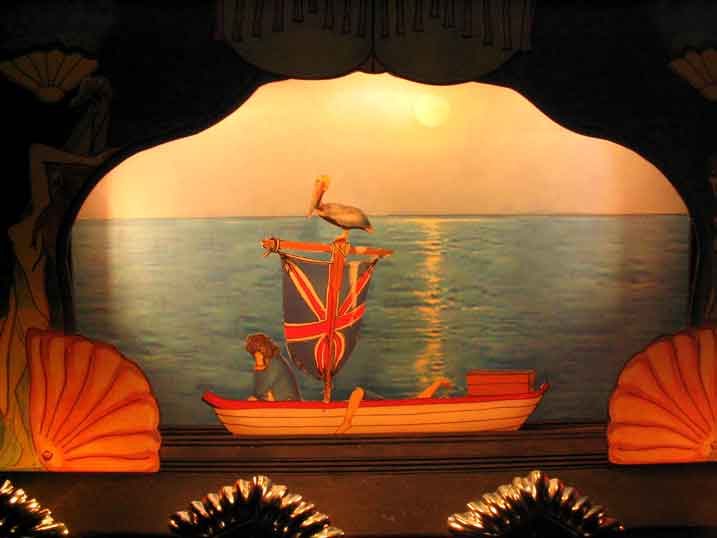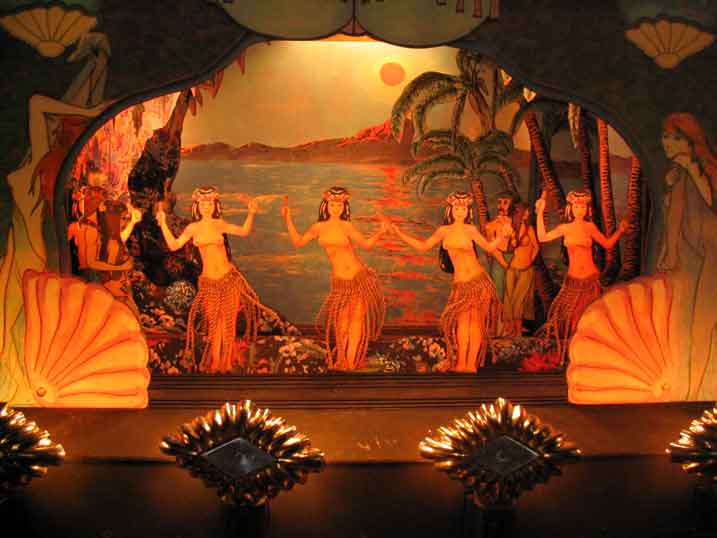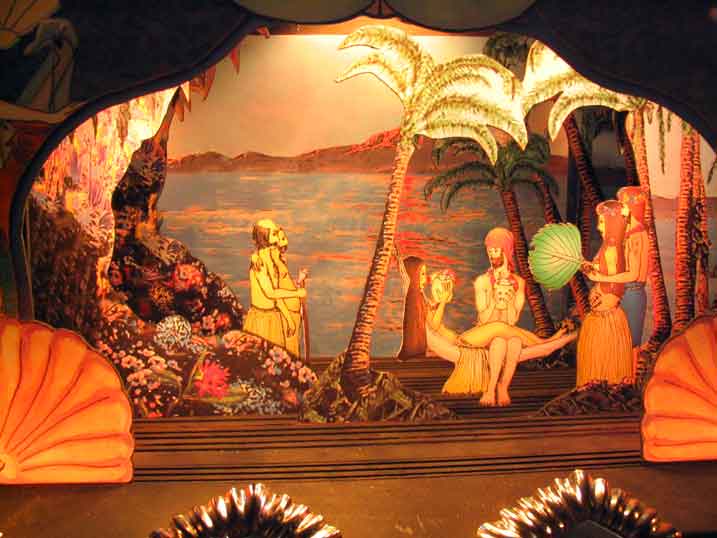 Sneak Preview: photos: Clockwise from upper left: the Bounty sails, Captain Bligh drifts, but life on the island is good, with hammocks, drinks, guys and gals, and dancing girls (and boys, not shown).
The Picnic -An ancient folk character in a modern adaptation of an ancient script performed with an ancient form of puppetry! In this tale of fast times in the Ottoman Empire, Karaghoz trys to go on a innocent picnic by the river, but two uninhibited maidens cavorting on the river bank while their wash dries cause great struggles for our hero as he tries to preserve their chastity while battling his own urges. And to make things worse, he is in possession of a bottle of wine stolen from the local Pasha, and the Pasha's guard is on the loose! Runs about 24 minutes.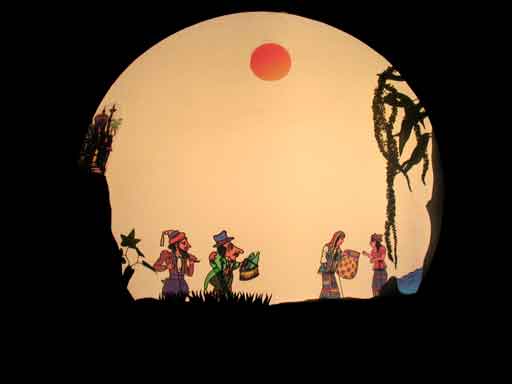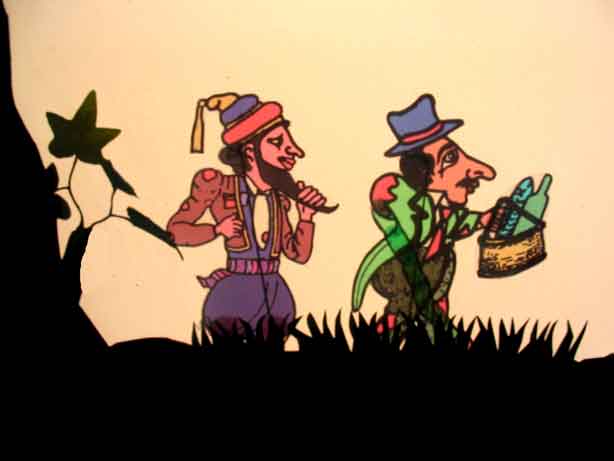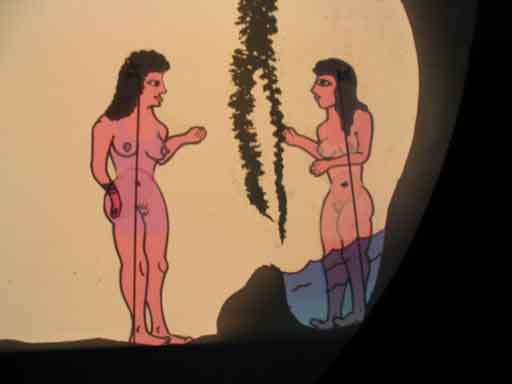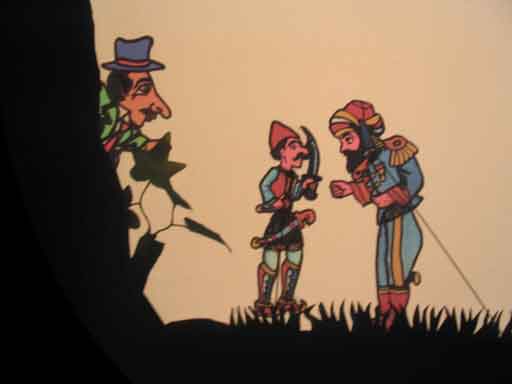 Images, above L, heading to the river for a picnic, and top R, our hero, Karaghoz and his friend Hatziavatis. Below, L, the maidens shifts dissappear like magic when they get wet, and below, R, Karaghoz hides from the Pashas guard.
Natalie- WINNER OF HIGHEST NATIONAL PUPPETRY AWARD FOR EXCELLENCE (MORE) In "Natalie," a warm Parisian street puppeteer takes off her clothes in her puppet stage where no one can see her, only to find all is revealed after a strong gust of wind. Thus she begins an adventure that eventually leads her back to her puppets and stage (but not her clothes) and to fame and love. This little program, presented in traditional toy theatre style, is about 15 minutes long, and contains puppet nudity (tasteful, of course), adult situations, and a brief implied sexual encounter that takes place tantalizingly behind a folding screen.
(Read the article from the Fall/Winter 2003 Issue of Puppetry International on "Natalie." Click Here.)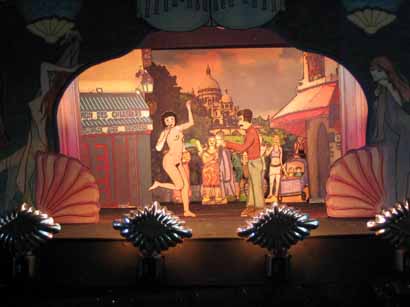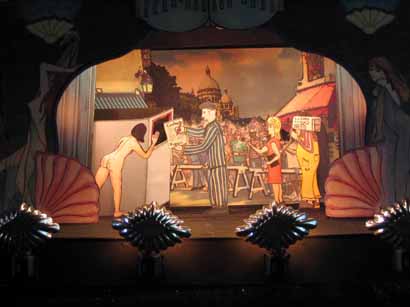 Natalie, the nude puppeteer of Paris, becomes a performing sensation and receives many offers.
The Widow - WINNER OF HIGHEST NATIONAL PUPPETRY AWARD FOR EXCELLENCE (MORE) In "The Widow" a lonely widow keeps an inn on the moor. One day she receives a diabolical visitor who offers her a night of complete satisfaction in exchange for her soul. Being lonely and less than satisfied, the full figured, middle-aged widow jumps at the offer, figuring "hell on earth or hell in hell, it's all the same to me." The Devil thinks he has an easy mark, but he had not counted on the pent up appetite of his partner. This toy theatre production is performed by Valerie who sings and operates the puppets while Michael plays live accompaniment on the dulcimer. Duration is about 7 minutes. Contains devilish puppet nudity, sexual situations and sexual encounters (sung, but not exactly shown) numbering quite a few.
"...Valerie's lovely, lilting voice captured the audience from the first note of "The Widow," and although we were tempted to roll in the aisle laughing at the poor devil's delemma, at the same time, we didn't want to miss a word of the song." (audience member in San Diego)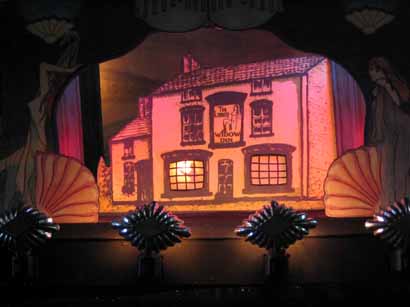 --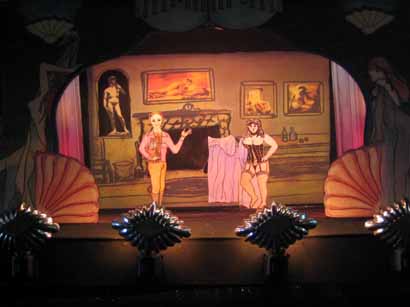 The widow shows the handsome devil she is ready to take up his challenge!
Tango For Tarzan - A young woman longs for a life of adventure when she suddenly finds it in the most unlikely place, a natural history museum diorama that magically becomes another world filled with evil, good, and a wild and erotic tango with a handsome 'Ape Man' among the rhinos. Our Jane starts out being the victim of life but soon gains full control of her womanhood in a joyous encounter in the jungle. Contains puppet nudity, adult situations and implied sex. Presented on the toy theatre with some animation of the paper figures. Running time, about 19 minutes.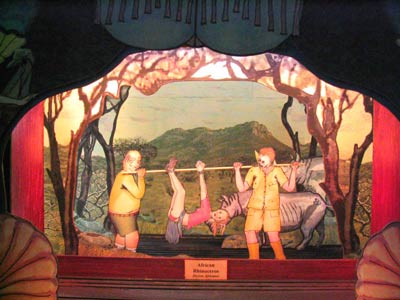 ---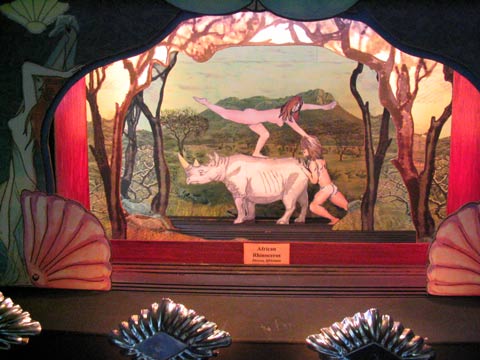 Jane goes from being a victim to being a fully participating partner in a wild tango among the (stuffed) rhinos, all taking place in a museum diorama!
Celebrity Kama Sutra -If you have ever read this ancient sex manual you have perhaps scratched your head and said to yourself, "It must be possible if they describe it here, but I'm darned if I can figure it out!" Well, now finally there is help! Let our tiny celebrity volunteers show you step by step how to achieve some of the most advanced and difficult positions using the actual instructions as translated by Sir Richard Burton (the explorer, not the actor.) This program is presented as an educational, public service for the community. To protect the identity of our celebrity volunteers, the demonstration takes place discreetly behind a screen while the audience watches the tiny shadow silhouettes. (Contains probable puppet nudity, and some very adult situations.) Sorry, no pictures...you will just have to see what many audience members feel is our most hilarious, tiny show.) Audience members will be asked not to reveal the identities of the celebrities. Running time varies depending on the number of positions covered (or uncovered?), up to about 25 minutes.
The Lady Or The Tiger - An ancient king has an unusual system of justice. Open one door in the arena and there is a lady. Open the other and there is a ravenous tiger. Which will it be? The lady or the tiger? (Similar to but not exactly the version you read in high school English class! Contains adult humor, some very scanty outfits and a somewhat dangerous tiger.) This sexy, political satire is done with Barbie playing the Barbarian Princess, Midge, her sister, the King is played by GI Joe, and the Prince by Ken (with the tiger playing himself). So, not exactly toy theatre, but theatre with toys...Runs about 20 minutes. Photos to come.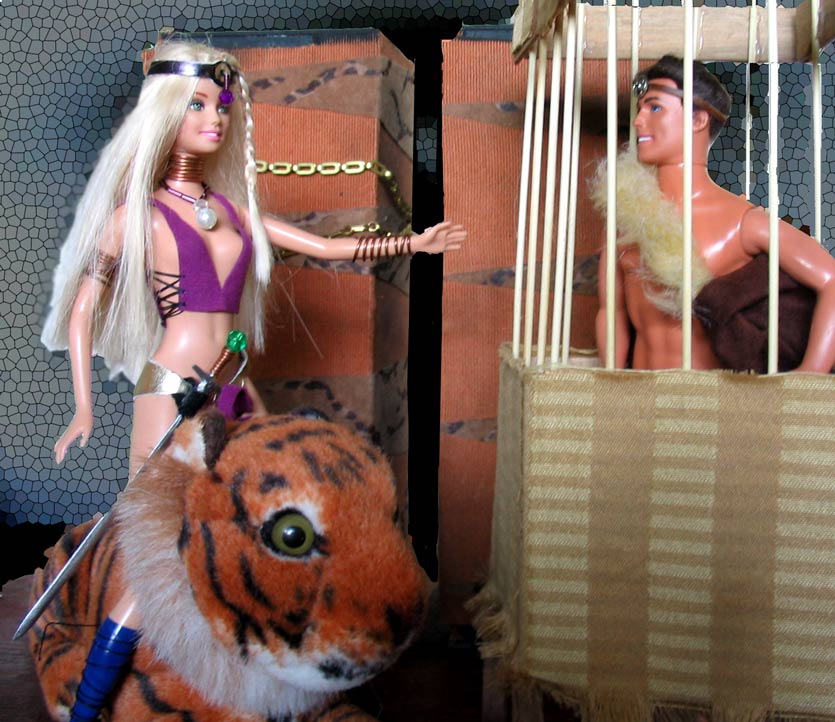 ...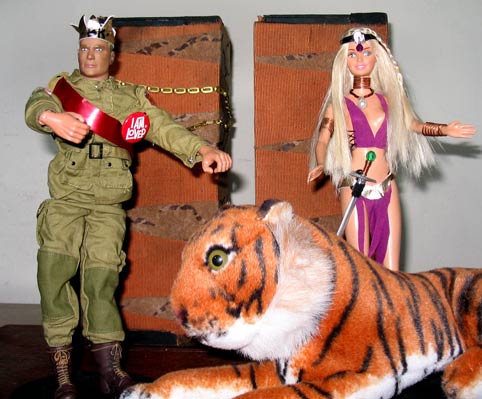 Krishna and the Gopis - Krishna is known as the Great Lover in India. In this dreamlike illuminated shadow puppet piece we see a much celebrated incident from Krishna's early years when he steals the clothes of the lovely bathing Gopis (milk maids) and won't return them until the blushing beauties reveal themselves body and soul to him. Contains lots of lovely nude women with ancient and new, original poetry. Runs about 12 minutes.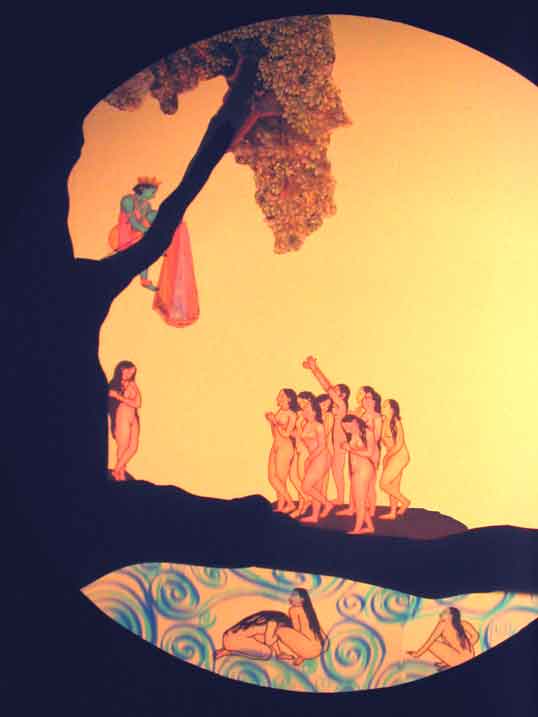 It is said that Krishna could be with all of the Gopis at once, and each one would feel that she alone was his special love.
Some Enchanted Evening -...you will see a stranger, across a crowded room...In this song (from South Pacific), sung by Valerie and interpreted by two robust and almost graceful hand puppets, we learn that first encounters can be filled with the unexpected. No nudity, no sex, hardly even a successful meeting. Runs 6 minutes.