Magical Moonshine non puppet project:
The Industrial Vibulon
A Musical Instrument Installation Commissioned by the New Orleans Jazz and Heritage Festival for the 2001 festival.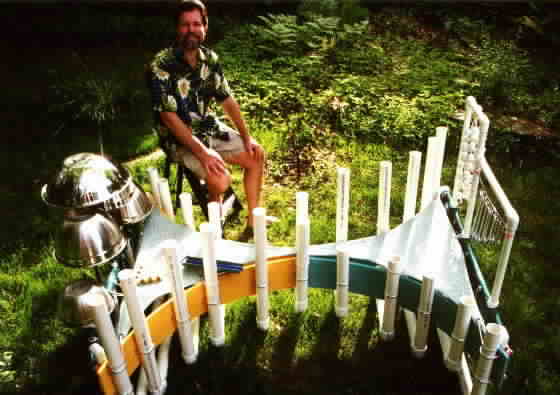 Photo shows the Industrial Vibulon and artist/creator Michael Nelson. More photos below.
The instrument, commissioned for the 2001 New Orleans Jazz and Heritage Festival's Children Area is a free standing PVC aerophone constructed with 2 inch, schedule 40 PVC pipes, tuned to 2 different pentatonic scales that meet in the center, sharing the center note (C, the root of both scales). The pipes are played from either side by slapping the ends with "flip-flop" sandals. At one end of the installation is a bowl gamalan made from stainless steel bowls, and the other end has a wrench-set chime and a PVC cap bell-shaker. The instrument is designed for all-weather, outdoor use, with exterior plywood, tortured into curves, and stretched, shadecloth top and sides. Go visit it at the Jazz and Heritage Festival and let me know what you think!
About the Artist: Michael Nelson is artistic director and co-founder of Magical Moonshine Theatre, a musical puppet and mask theatre that tours out of Napa Valley, California. He has had an interest in unusual and home-made musical instruments for over a decade and has used a number of such instruments in MMT performances over the years.
Magical Moonshine Theatre Home
Email the artist: mail@magicalmoonshine.org
More Photos by Thom McDermott
The photos below show various views of the installation, including close-ups of the different instruments, the PVC Pipe Organ, the Wrench Chimes, the PVC Cap Bells, and the Bowlalan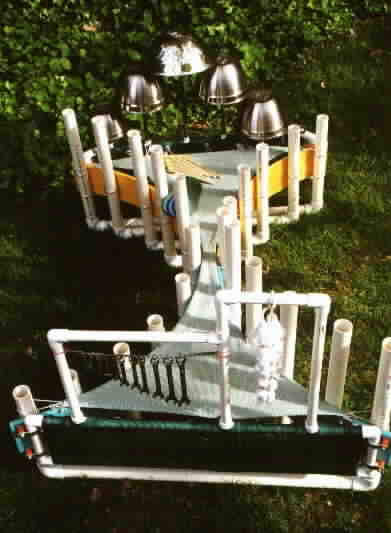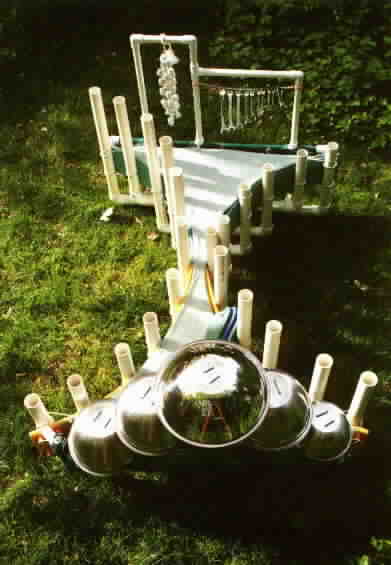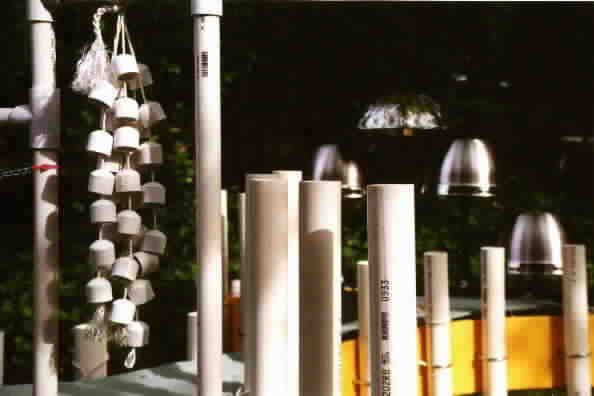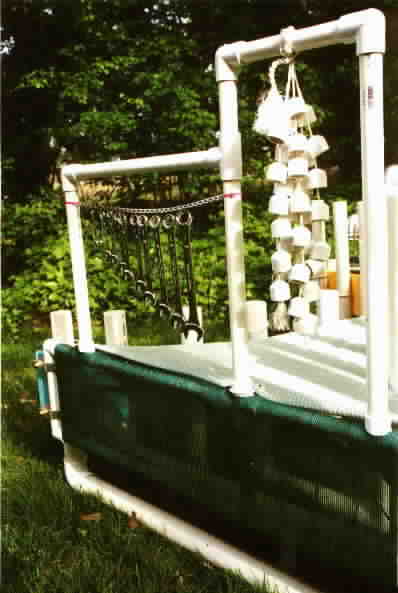 Under construction: Pipes were cut to size based on tuning required, then arranged around the prebent plywood boards, held with bungie cords for positioning, then U bolts.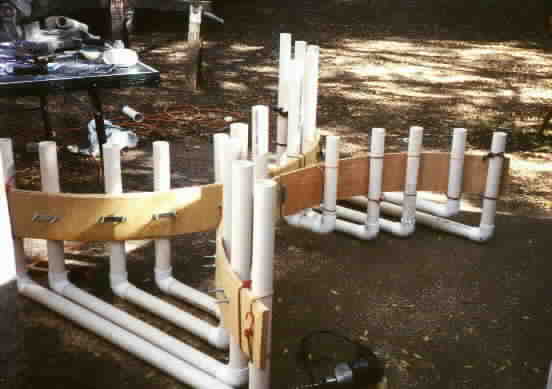 Still Interested? Want to make one of your own? Here is technical help in creating your own similar instrument.