Answers to Frequently Asked Questions

Q: How do I book a show?

A: Call 707.363.4573 or email mail@magicalmoonshine.org. We will work with you to try and fit your scheduling and budgetary needs. It's easy!
Q: What is the cost of a performance?

A: Fees vary according to production and travel, but there is something for most every budget. Call us, Michael and Valerie, at 707.363.4573.. We will work with your schedule and needs to find a good time to bring you a show.

School funding is generally available for school in Napa County, Santa Cruz County, shows Newark, Union City, Fremont, Santa Barbara and SLO Counties. In addition to those regular sources of funding, we also sometimes have funding available in other locations. Call us, Michael and Valerie, at 707.363.4573 for the most current information.

Q: Where can I see your performances?

A: To find a public performance near you, click on the "Events Calendar" tab to the left. MMT tours statewide in California and occasionally tours into other states and overseas. You'll find us performing in theatres, festivals, universities, community halls, parks, schools, etc.

Q: What age group are MMT shows appropriate for?

A: Most of our performances are designed for youth and family audiences. Although we prepare material that is designed for children, we do not play down to children. Adults enjoy our shows as much as the children because the content is intelligent. Children under the age of 3 years, while welcome at many of our shows (if they do not distract other audience members) are generally considered a bit young for the performances.

Q: What does MMT need to perform...

...in a hall?
A: When we tour by road, we generally tour with complete lighting, sound and curtain system, so that we can walk into an empty room and create a temporary theatre space. When we travel by air, we often do not take all of the technical equipment that we carry when we road tour. Technical needs should be addressed ahead of time via a phone conversation with Michael or Valerie.

...outdoors?
A: Our basic need outdoors is sound reinforcement and protection from wind and to a lesser degree, protection from distractions in the environment. When we road tour to an outdoor location we often bring our special outdoor staging (see photo below) and sound system. Considerations for the presenter for an outdoor concert/performance should include placement of the show; will the audience be comfortable (shade? sun in their eyes during performance hours?), will the performers be comfortable (or at least survive?)-again, sun is the main consideration for our California outdoor shows. In addition, with our outdoor staging, it is best if the stage is placed so that prevailing winds come from the back or sides rather than the front.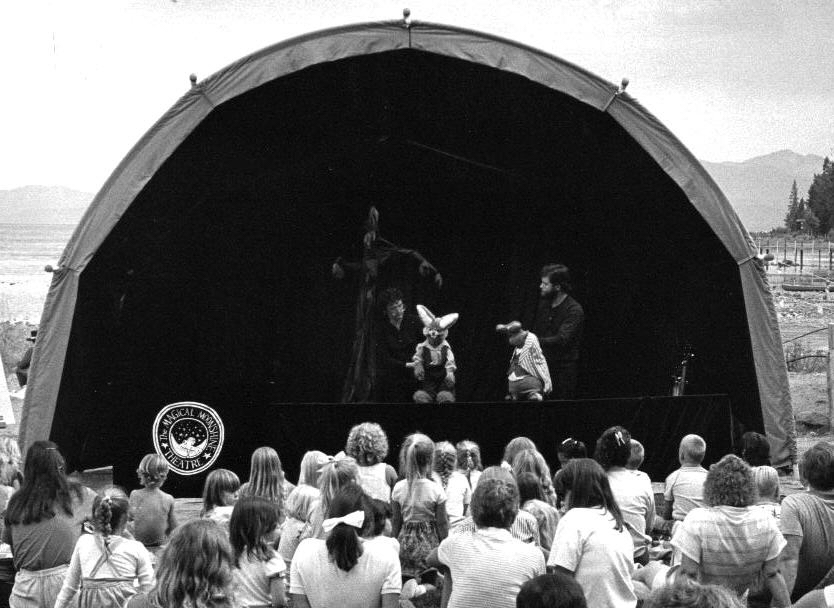 For more information
about any of our programs or to secure a date,
contact us at 707.363.4573. or mail@magicalmoonshine.org