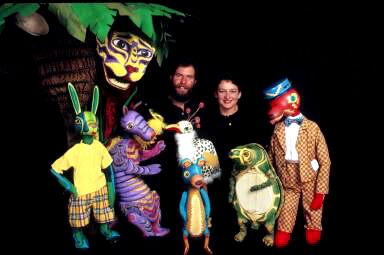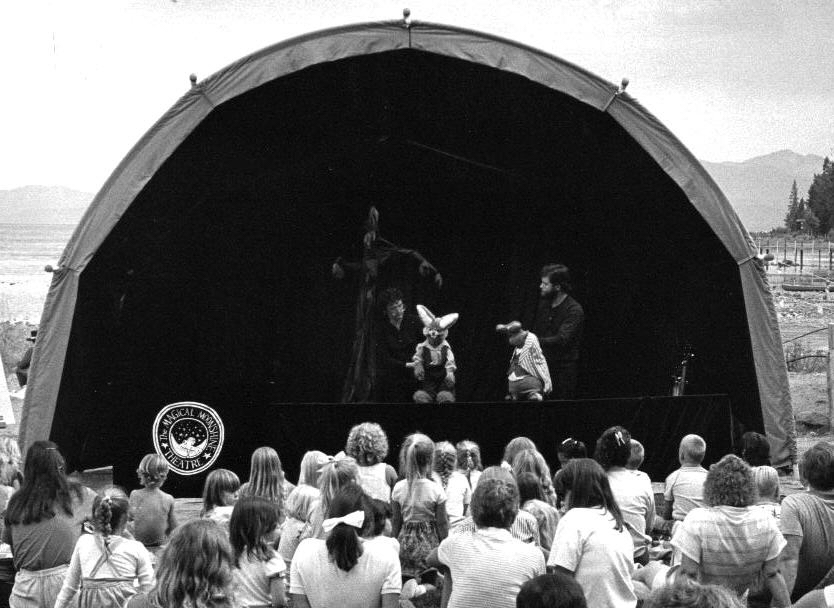 For larger events (theaters, fairs, festivals, city events, etc.) the shows listed under Assemblies are quite suitable. Below is a list of productions great for smaller events, parties, classrooms, etc.
Puppylocks and the Three Bears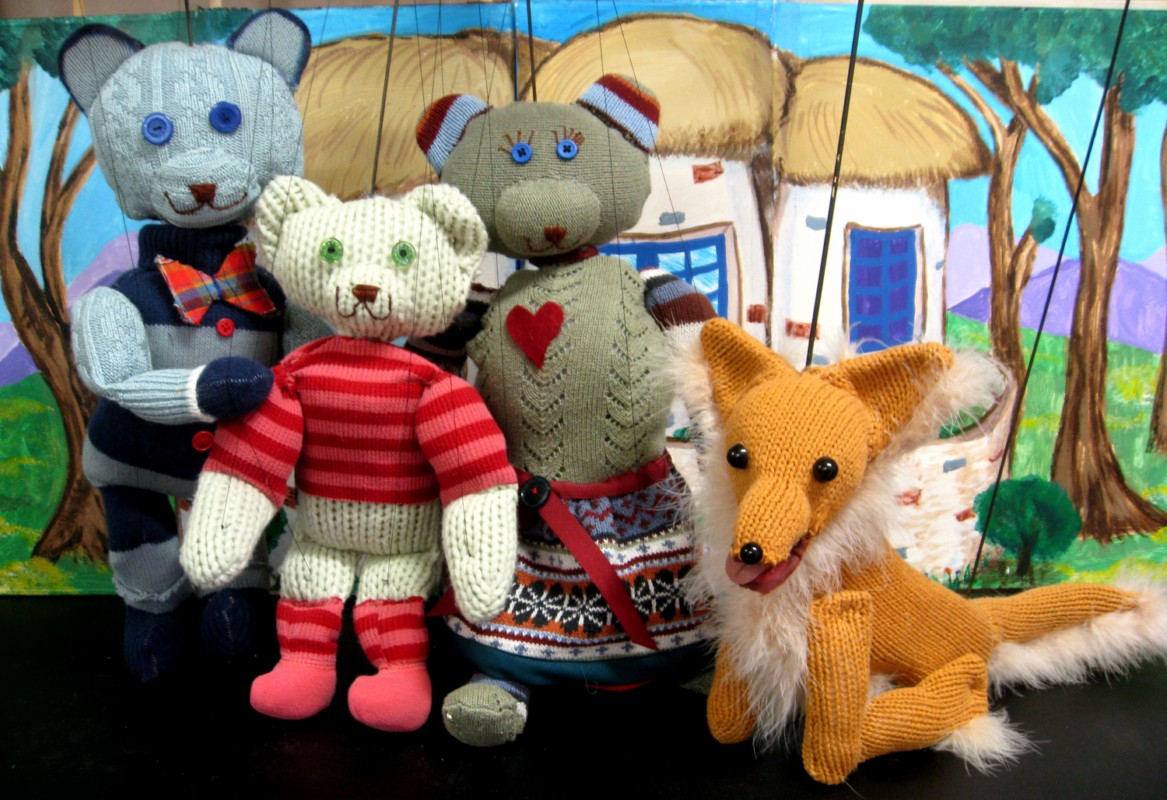 WHAT IF? What if the Three Bears were really Teddy Bears! And What if Goldilocks was not a little girl at all, but a golden, mischievous little dog? That is exactly the case is this very funny retelling of the traditional fairytale. Watch this impish little dog do everything wrong in the Bear's house while the bears are off to the TEDDYBEAR CIRCUS! Puppylocks is presented with traditional Bohemian style marionettes on a tabletop stage. It runs about 40 minutes and is highly recommended for ages 3 and up. Live music and singing.
The Three Little Pigs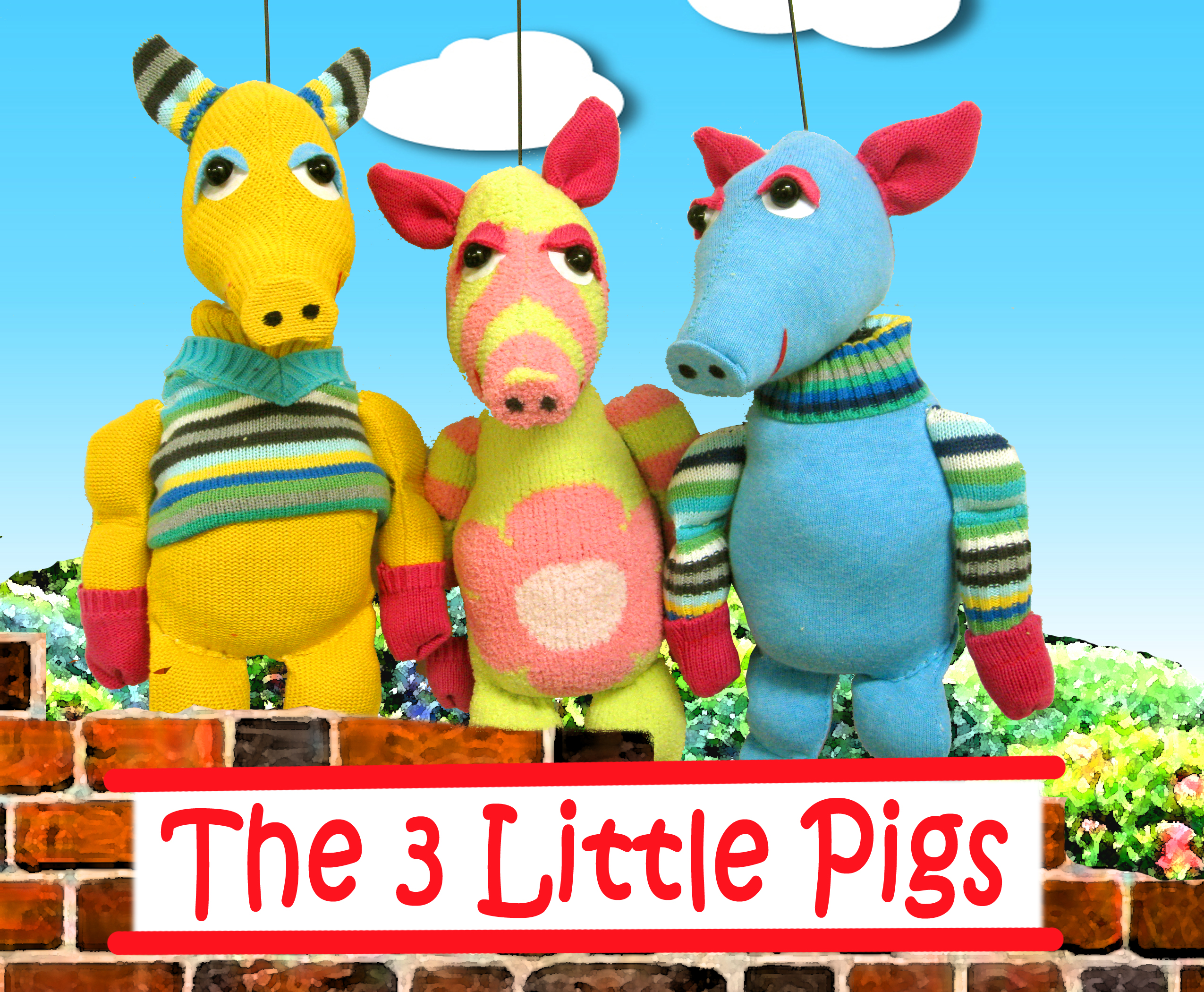 Three pigs set out to seek their fortunes with a bit of house building. Things don't go as planned in this creative retelling of the traditional story; houses collapse, pigs and wolves play together and audience members help the story along with lots of live music, singing, construction and laughter. Presented with traditional Bohemian style marionettes on a tabletop stage. This show runs about 40 minutes and is recommended for ages 3 and up.
__________________________________________
The Puppet Man

The Puppet Man is a hand puppet presentation done in a very traditional, European style. With the puppeteer (Michael) wearing the walk-around stage, the presentation consists of a variety of humorous skits, sometimes requiring audience members to help out or make suggestions to help the puppets solve problems. This presentation can be geared to few-year-olds or older, elementary aged children. Different themes can often be accomodated.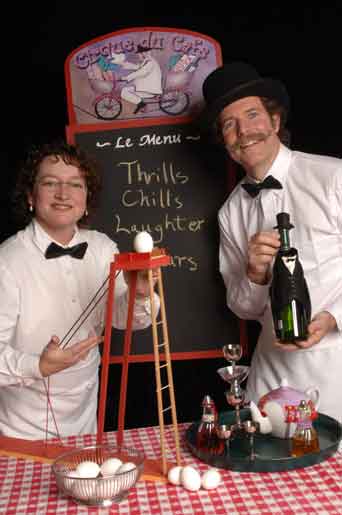 Cirque du Cafe - Magical Moonshine Theatre's table top circus for the whole family, where salt shakers do a trapeze act, a wine bottle and a baguette perform magic, a bread roll rides a pizza cutter unicycle and a banana swallows swords longer than it's body. This is object theatre and puppetry and circus and great fun! Performed with live, French musette accordion, this show can be up to 70 minutes or more in length.
Little Elephant Has A Ball
-----
This table top presentation was designed for the Puppets In The Preschool Conference at Contra Costa College, and was created to be developmentally appropriate for preschool audiences. In the story, Little Elephant finds a ball, but when she goes to play with Monkey and Zebra, she discovers that they are much better players than she is and at first would rather play without her. With the prodding of Lion, the animals learn how to play together and appreciate each one's different skills with the ball. This funny and tender show includes live music on the ukelele and singing with children learning the songs and hand plays to join in, as well as helping the animals figure out how to solve their problems.


The Recycling Show MMTs recycling show focuses on the whys and hows of living on earth in our age of consumption.